Location
South London UK
Artist's biography
Kieron Brennan is a TV cameraman, editor and producer living in South London. He has been working in broadcast television and experimental video since 1990.
Kieron has collaborated with many artists throughout his career, producing video work for installations and press releases as well as shooting short films and music projects, having begun his alternative TV career developing live video projections for venues in London's clubland.
Kieron also writes and edits TV shows for worldwide news sports and current affairs channels, as well as teaching the art of television production at high schools in Surrey and South London.
The work: "The Crackdown" video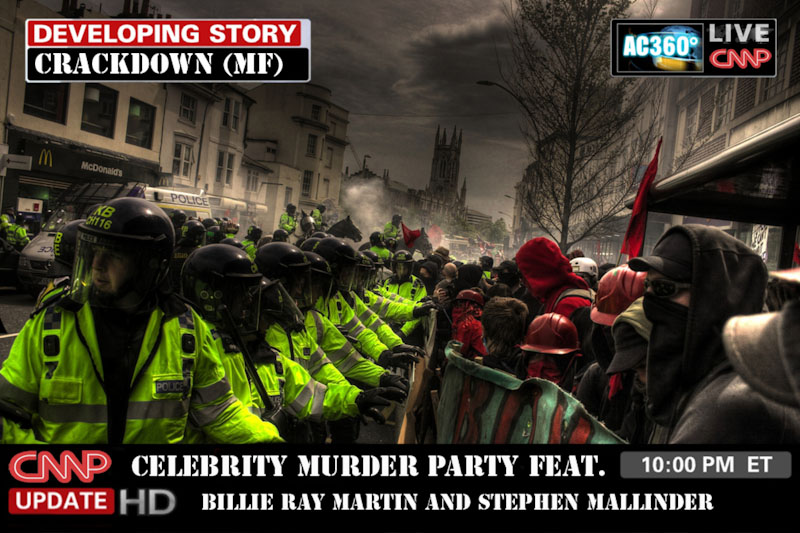 "The Crackdown" project came about when friend and colleague Jeremy Biggs of the Celebrity Murder Party remix team suggested a video to go along with their 2010 dance reworking of the 1983 Cabaret Voltaire song, with new vocals recorded by Billie Ray Martin.
It was an opportunity to visually revisit the darker style of this cold war era track, and cut it together with the modern vivid Berlin nightclub scene, with Billie Ray Martin performing the song live in front of a club audience in Kreuzberg.
The original 1983 video featured Cabaret Voltaire in Poland during the brutal days of communist imposed martial law, with all the death squad paranoia and bleak monochrome imagery and imposing architecture reflecting the sense of despair and injustice there at that time. The song can be seen a warning to us British listeners, how easily things can slide into such a repressive condition, how fast political actions can lead to sudden harsh reactions, such as sweeping in creepy spy laws and hidden CCTV cameras within months, and how an emergency police state is always an ace to be played by the powerbrokers of any nation.
I had a library of images from some major riots, initially for a documentary but also out of a fascination for watching huge crowds acting in unison against brutal injustice, and because such material is rarely analysed on mainstream TV here. The video contains some images from the Brixton riots of 1982, the L.A. riots, uprisings in Bulgaria, Indonesia, the London Poll Tax riots, the Miner's Strike and other sources such as UK police riot squad training films.
I wanted to contrast the feelings of hopelessness with fresh pictures of liberated countries, the message being predominantly one of civil disobedience against those in power, that in this century it seems those in power should fear the people, not the other way around, and whilst any form of rebellion is frightening yet attractive, the masses acting in determined swarms is a colourful and true expression of art in some respects and should be celebrated as such.
Upon completion of this video, by chance the similar scenes playing live on TV news of the Arab Spring had begun, and suddenly started the domino effect of repressive governments, the world watching them collapse, one by one under the weight of outrage and frustration pouring from these people who had been needlessly cracked down upon for many, many years.
Links
web http://www.tellyheads.com
youtube tellyheads